Payroc Launches Chargezoom, A QuickBooks Certified Solution
Payroc is excited to introduce its newest software partner, Chargezoom. Chargezoom brings in payment functions that are vital for business growth. This software facilitates payment acceptances and syncs all payments into existing accounting software, in real-time!
The First of Its Kind
Chargezoom is the first and only payment solution certified by Intuit for QuickBooks.
Businesses use accounting software for bookkeeping and managing all of their financial data. Accounting software programs like Quickbooks Desktop, QuickBooks Online, FreshBooks and Xero provide businesses with the tools to automate many administrative tasks.
"Chargezoom is a g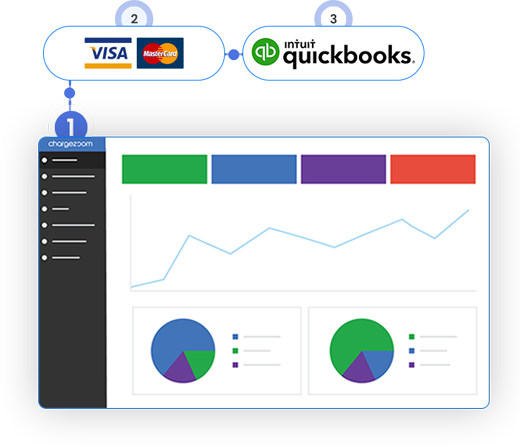 ame changer for Payroc. We now have the opportunity to work with merchants that rely on these programs for their business accounting," says John Burns, product sales manager, "More than that, businesses can implement our compliant surcharging platform, RewardPay Choice, and still keep all their accounting functionality."
Finances drive business, and accounting software is key in small business insights. These programs equip them with an array of features to better understand their overall profitability, inventory management, full-service bookkeeping and so much more.
RewardPay Choice Integration
Along with several accounting software choices, Chargezoom is also fully integrated with RewardPay Choice.
This enables businesses to use their existing accounting software and cut down processing costs. Businesses save 60-90% of their credit card processing fees with RewardPay Choice, truly cutting costs in a meaningful and positive way.
"I am excited about our new partnership with Payroc. Chargezoom's leading technology combined with Payroc's innovative payment solutions make a winning combo for merchants and agents alike. The RewardPay Choice integration for QuickBooks is just the beginning!" says Matt Dubois, CEO of Chargezoom.
Additional Key Features
Subscription Management

Email Invoices & Payment Reminders

Embedded "Pay Now" links in emails

Payment Scheduling

Customer Portals
Chargezoom is a cloud-based solution that offers a variety of integration options. This service lays out payment management and invoice syncing in one, simple dashboard.
If you're interested in learning more about how Chargezoom can help grow your business, contact us here.
About Payroc
Payroc and its affiliates, with offices in Chicagoland, Atlanta, Toronto, Whitefish, Montana and Salt Lake City is a high-growth American, Canadian and international merchant acquirer, processor and payment facilitator powerhouse operating in 46 countries, processing over $29 billion in annualized volume for more than 66,000 merchants. Payroc offers best-in-class sales enablement and merchant processing technology on a global basis, delivering proprietary, innovative and full-service merchant acquiring solutions together with key card brand network payment sponsorship registrations. Payroc LLC, together with its wholly-owned affiliate Payroc Processing Systems, LLC, is a registered Visa third party processor (TPP), Mastercard third party servicer (TPSV), payment facilitator (payfac) and encryption support organization (ESO) for Fifth Third Bank, an Ohio-chartered bank, Cincinnati, Ohio ("Fifth Third"). Payroc LLC is a registered independent sales organization (ISO/MSP) for Fifth Third and Wells Fargo Bank, N.A., Concord, California ("Wells"). NxGen, one of Payroc's companies, is an Elavon payments partner and registered as an ISO/MSP of Elavon, Inc., Georgia, a wholly owned subsidiary of US Bank Minneapolis. The company's Canadian business unit is a registered ISO/MSP of Wells and Peoples Trust Company, Vancouver, Canada. For more information, please visit payroc.com or telephone 844-PAYROC-4.
About Chargezoom
Our Mission is to Simplify Payments. Founded by Matt Dubois, a seasoned SaaS entrepreneur with high-level knowledge in the tech and payments industry, Chargezoom was designed to address the needs of modern businesses of all sizes. Companies of all sizes and from all industries are looking for easy to use integrated payment solutions for their accounting software. Business owners, Accountants and Controllers appreciate gaining control of cash flow with features such as our third party credit card vault while having payments from multiple platforms and sources syncing in real-time to your existing accounting software. Developers love it, because how easy it is to integrate with the intuitive RESTful API. No need to upgrade your systems or change merchant processing accounts, Chargezoom runs in the cloud and can be setup in 5 steps in less than 5 minutes and no IT guy is required. Chargezoom is completely FREE to try for 30 days, we won't even ask for your credit card. We are so sure you will find instant value, we don't need to ask upfront. If you are just getting started, we offer FREE plans for tech startups, new and student businesses, contact us for more details.
Get started with Payroc
No matter where you are in your payments journey - whether a merchant, agent, partner developer, we're here to help.